Robin Wood - Air Freshner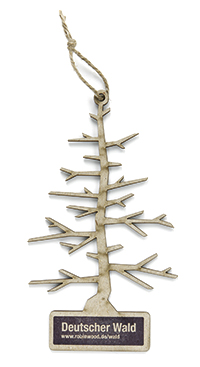 2007/12/01
Task
According to the 2007 report from the Forest Service, 68% of German forests are already damaged. The agency was asked by ROBIN WOOD, a ecology group to develop an attention-getting idea in order to raise awareness of this serious problem and to sensitise the public to the subject of forest blight.


Idea
In the style of the popular and beloved Wunderbaum, a German, tree-shaped air freshener for cars, a very special version of the rearview mirror-hanger was developed, the "German Forest". What makes it special is clear in the first glace: it no longer has any leaves or needles and consists only of a feeble skeleton of a tree. The "German Forest" was sent as a mailing and was also distributed at ROBIN WOOD promotions.
www.robinwood.de/wald
---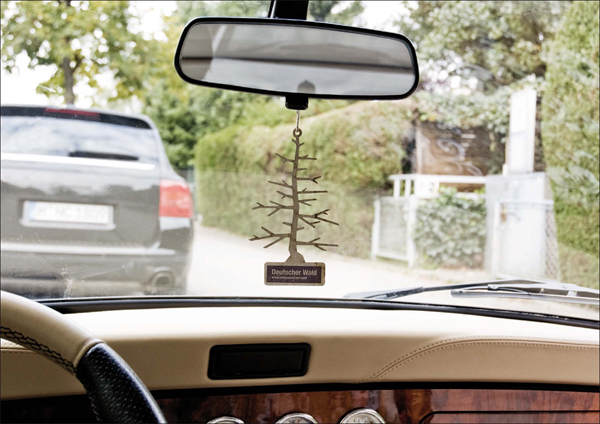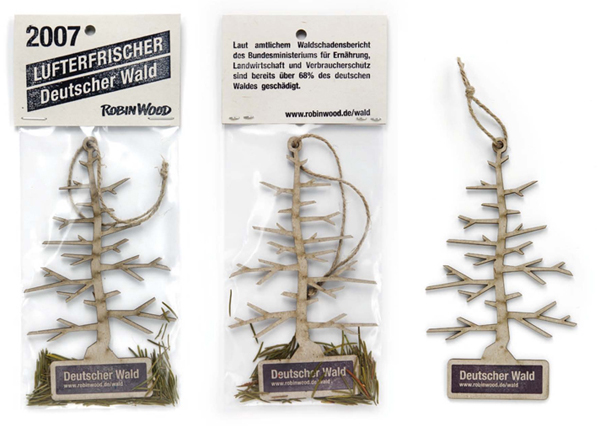 Award
The Give-Away was awarded by the DDC (Deutscher Designer Club) as an example for GOOD DESIGN in Print and published in the DDC annual "Good Design 2009"


---
the Rip-off
The awarded Wunderbaum is even ripped off and sold in a french online shop. Actually I'm very pleased that a guy from Robin Wood e.V. found it cause some wise guy said once: "The greatest appreciation you can get is if someone is copying you..." so lets face it - thanks for the flowers, fools. If you want to get the real deal and help to safe some trees get it on the Robin Wood e.V. website (it's even cheaper)